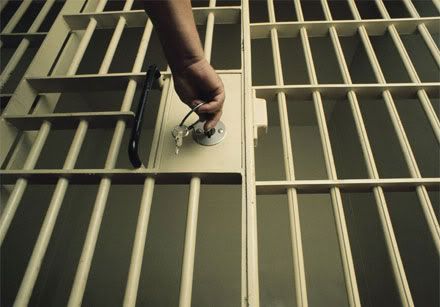 The Southern Poverty Law Center is demanding that Orleans Parish, Louisiana Sheriff Martin N. Gusman immediately transfer a transsexual woman who has been raped repeatedly. The transwoman, identified only as S.T., has been a victim of repeated violent sexual abuse and torture…while guards have failed to protect her.

All of the jail buildings are all extremely dangerous. The facilities are full of contraband. Deputies provide dangerously deficient supervision and fail to protect individuals who are particularly vulnerable to abuse. These violations resulted in our client being raped for weeks.

--Katie Schwartzmann, managing attorney of SPLC's Louisiana office
On February 27 S.T. was gang raped for approximately 40 minutes by 5 men who held her hostage while armed with knives. The gang-rape was witnessed by other prisoners. She was forcibly penetrated orally and anally. When she sought medical attention two days later, sheriff's deputies refused her requests.
Eventually she was taken to see a nurse. When she reported the rape, the nurse offered no response, seeming not to believe her. She was then placed on suicide watch and returned to a male dorm in an unsupervised cell.
On March 7 another prisoner raped her…while she was supposedly still on suicide watch. She has since been raped multiple times over the last several weeks. Additionally her attacker has beaten her severely enough to have broken one of her rear molars.

Sheriff's deputies failed to take any reasonable efforts to protect [T.S] from this abuse. In fact, deputies deliberately increased the chances that [T.S] would experience additional abuse by implying to her attacker that she was seeking legal assistance from this office in an effort to halt the abuse she was experiencing on a nightly basis. Upon hearing this information, [T.S.]' attacker became irate and threatened to kill her, to "break every bone in her body". Deputies once again failed to protect her from this torture.

--SPLC letter (pdf)
Last weekend T.S. was strangled and attacked once again and she filed for sick call, saying "help me, I'm being raped." The nurse walked to her cell, looked in, and began to walk away, but T.S. confronted her and begged her not to leave, claiming she would be killed in the nurse did nothing to protect her. T.S. was transported to University Hospital. A rape kit was performed and she was tested for HIV. When she was booked into the jail, she was HIV negative. She is now positive.
On March 26 deputies attempted to return her to the same tier that housed her attacker. When her attacker saw her, he threatened to kill her in front of the deputies. She refused to enter the tier and the deputies moved her to another tier.
As she was being moved, her attacker screamed that he knew where they were moving her to and he would send someone to get her. She is now housed on a tier where the cell doors do not lock, where violence is widespread, and where deputies do not supervise or protect the individuals housed there.

If you fail to assure her safety, we are prepared to file suit in federal court and seek a temporary restraining order to have her transferred out of your custody.

--SPLC
Updates:
(1) S.T. was booked into the jail in early February on charges of simple assault and arson.
(2) Gusman's office:

The OPSO has a zero tolerance policy regarding sexual activity and assault in our facilities. The OPSO investigates every incident and allegation of sexual assault and violent behavior immediately and thoroughly.
They found no evidence of forced sexual abuse.